We are fortunate to have a small local pizza place in my neighbourhood: Avatara Pizza. Not a chain or franchise, either: a small place run by a guy named Ryan and a team of staff who will ask you if you want peppers or basil on your pizza, as an extra. They were in a tiny little shop where the oven (gas fired, and very impressive) dominated most of the space; they had to raise their arms up and turn sideways to get close to the oven's mouth with the peel to pull your pizza out.
They've been closed since August, renovating the store. The little hairdressing salon next to them closed – the only place in the 'hood where you could get your bangs trimmed or your wig styled – and was replaced by a newer, fancier hair place that sadly closed down months after opening. The pizza dudes saw their opening: they took over the space. The renovations were expected to be done by September, then by October…and they still weren't done. They had expanded their operations to a food truck in July, and so they worked out in the back parking lot in the evenings, still in a cramped space but open to the air. It was, as one of the pizza workers told me, nice in the summer but really, really cold in October.
They have finally reopened the store. Twice the space (three times, maybe?). Gone is the feeling that you have walked into oven's maw when you come in to pick up an order. It's nestled in the back, well away from the door, and you can see the flames without feeling like you were coming to ask Sauron for your pepperoni pie.
And…and! They've added seating. No more hustling to get the pie home before it grows cold (they offer delivery, but where is the charm of having a local pizza place if you have them deliver?). Chairs and tables, or bar stools and a counter view of the pizza making operations.
I bundled up and walked down to order a Maui Wauwie (tomato or rebel BBQ sauce, ham, mozza, pineapple, bacon, and parsley) and the grape drink I imagine to be the one Radar drank on MASH so many years ago. Ryan commissioned a local artist to do the artwork that's now up on the walls. It takes a while before you realize that each painting is a riff on the menu offerings, like my beloved Maui Wauwie: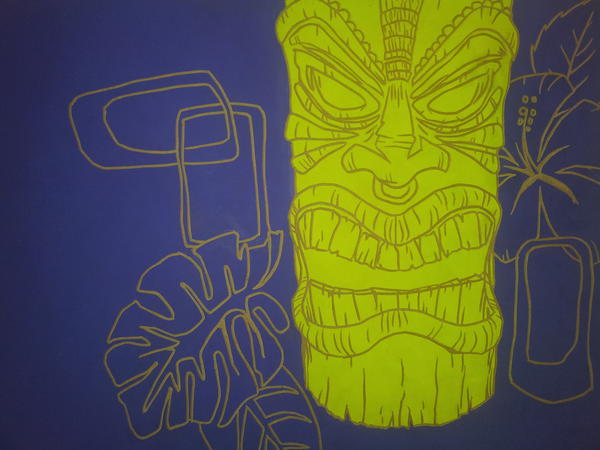 They are still ironing out the kinks (they've yet to offer straws or cutlery) but there is a feeling of rightness about eating your pizza out of the box in a place like that. You almost don't want it to be any smoother. Add to that a pizza guy calling out from beside the oven to ask you how it tastes, and you've got the perfect place to sit and munch your way through an eleven-inch pizza. And if you can't finish it all, you can just close up the box and take it with you when you leave.
If you go:
Avatara Pizza
3406 3rd Avenue NW
403.45.PIZZA = 403.457.4992
Thin crust pizzas (whole wheat). Also offers a gluten-free crust.
Call ahead to order for pickup; pizzas are usually ready in 25 minutes or so. Delivery takes longer, but why wouldn't you want to come down and look into the terrifying eye of the pizza oven?